**BY ENTERING TATTOO COMPETITIONS, YOU AGREE TO THE FOLLOWING TERMS AND CONDITIONS**
$10 TO ENTER EACH CATEGORY. TATTOO OF THE DAY IS FREE TO ENTER. ENTRY FEE IS NON-REFUNDABLE.

ALL AWARDS WILL HAVE A 1ST, 2ND

,

&

3

rd

PLACE WINNER, EXCLUDING FRESH CATEGORIES & TATTOO OF THE DAY.

COMPETITION REGISTRATION CAN BE FOUND AT THE ADMISSION BOOTH.

CLIENTS ENTERING: BE AT THE STAGE 10 MINUTES PRIOR TO THE COMPETITION STARTING. THERE WILL BE NO REFUNDS FOR NO SHOWS!

TATTOOS MUST BE FULLY HEALED TO ENTER TATTOO COMPETITIONS WITH THE EXCEPTION FOR FRESH CATEGORIES AND TATTOO OF THE DAY.

TATTOO OF THE DAY AND FRESH CATEGORY ENTRIES MUST BE PROPERLY CLEANED AND PRESENTABLE. NO BLOOD, NO PLASMA, OR TEGEDERM COVERINGS!

TATTOO OF THE DAY IS FREE TO ENTER AND MUST BE DONE THAT DAY BY AN ATTENDING ARTIST AT TOLEDO TATTOO FESTIVAL. TATTOOS FINISHED AFTER TATTOO OF THE DAY COMPETITION CAN BE ENTERED THE FOLLOWING DAY. MULTIPLE DAY TATTOOS CAN BE ENTERED ON THE DAY THEY ARE COMPLETED.

BY ENTERING TOLEDO TATTOO FESTIVAL COMPETITIONS, YOU RELEASE TOLEDO TATTOO FESTIVAL OF ANY AND ALL LEGALITIES STEMMING FROM COPYRIGHTED TATTOOS, ARTWORK, CLOTHING, PHOTOGRAPHS OR ANYTHING ELSE DEEMED COPYRIGHTED OR TRADEMARKED.

ANY AND ALL PHOTOS TAKEN OF TATTOOS AT TOLEDO TATTOO FESTIVAL BY OFFICIAL TOLEDO TATTOO FESTIVAL PHOTOGRAPHERS ARE SOLELY THE PROPERTY OF TOLEDO TATTOO FESTIVAL.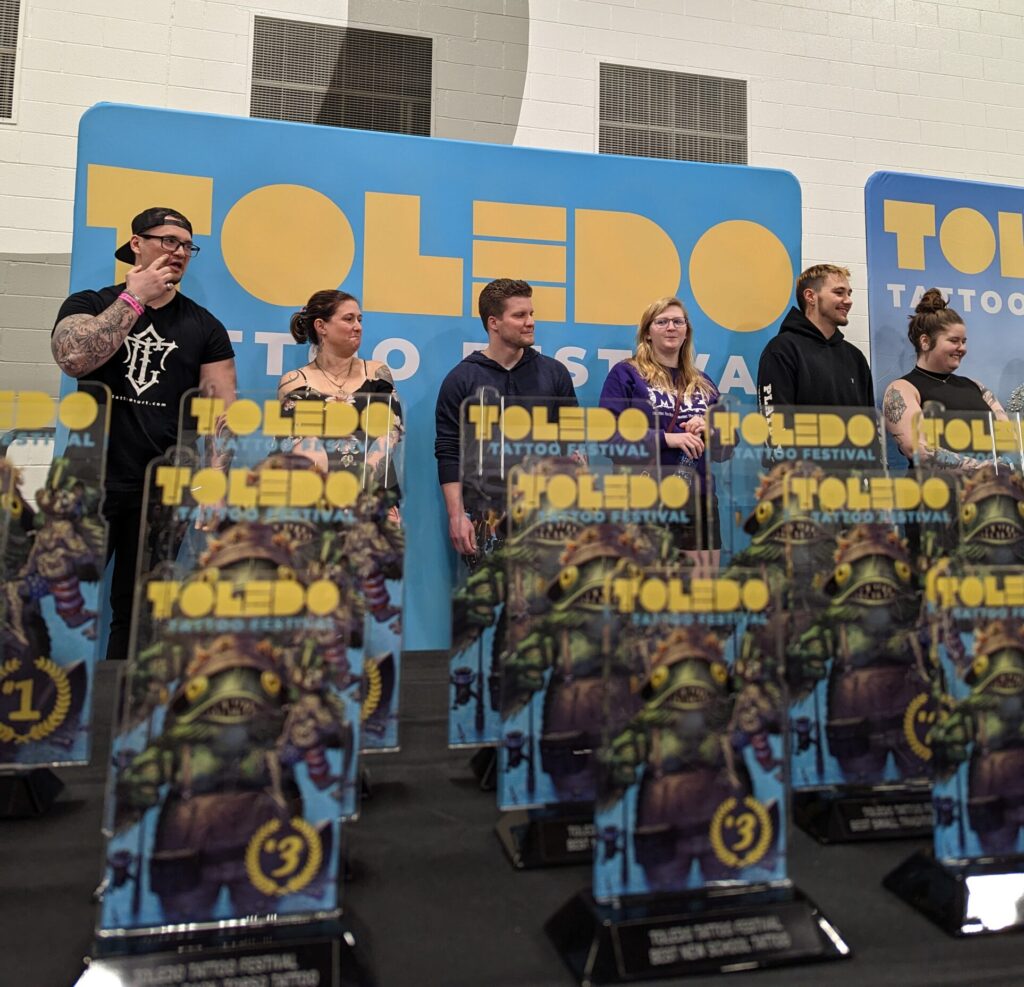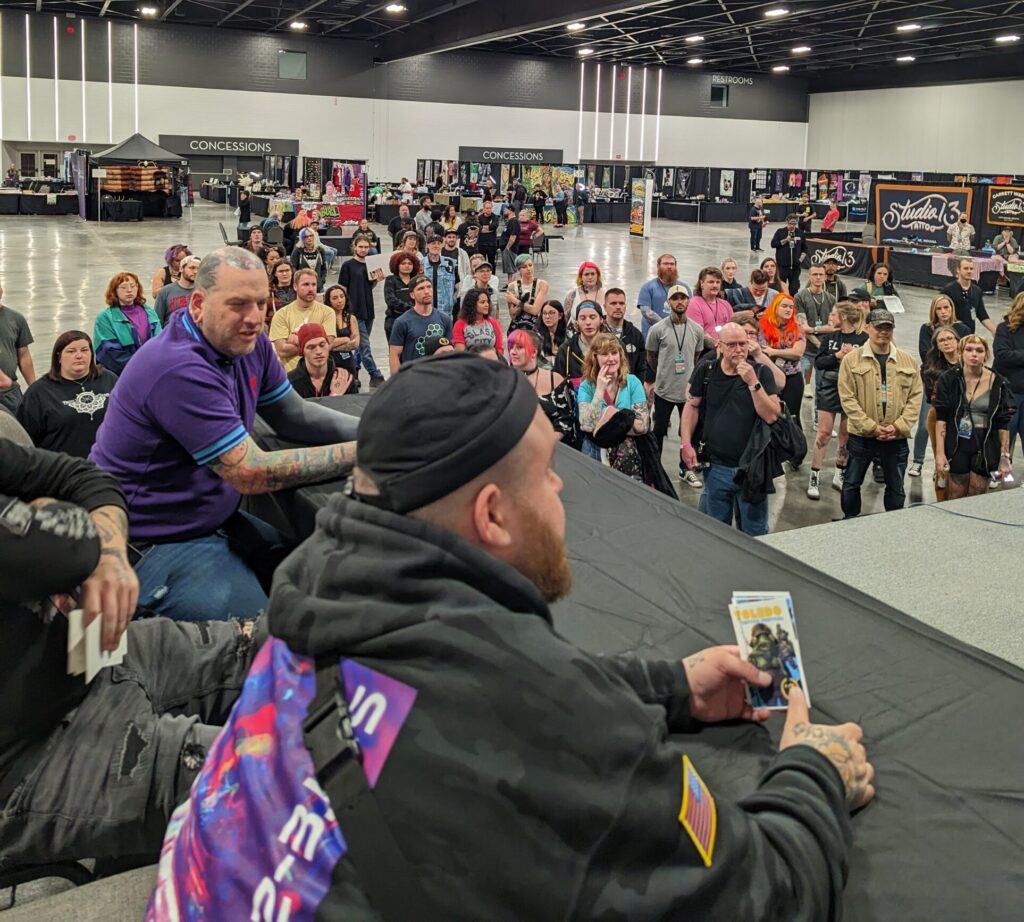 BEST BOOTH AWARD 8:OOPM

FRESH SMALL BLACK & GREY 8:00PM
FRESH SMALL COLOR 8:30PM
TATTOO OF THE DAY 9:00PM
HEALED SMALL COLOR
HEALED SMALL BLACK & GREY
ORNAMENTAL
ARM/LEG SLEEVE
BACKPIECE/FULL FRONT
FRESH SMALL BLACK & GREY 8:00PM
FRESH SMALL COLOR 8:30PM 
TATTOO OF THE DAY 9:30PM
NEW SCHOOL
SMALL TRADITIONAL
LARGE TRADITIONAL
LARGE COLOR
LARGE BLACK & GREY
PORTRAIT 
FRESH SMALL BLACK & GREY 5:15PM
FRESH SMALL COLOR 5:45PM
TATTOO OF THE DAY 6:15PM